How may we help you today?
First Aid
Where can I retrieve my lost license key?
Our online shop is handled by the 3rd party eCommerce provider "ShareIt/DigitalRiver" who receives payment and sends the license key(s) for your online purchases.
You have received your license with the delivery email coming from "DigitalRiver/MyCommerce/ShareIt". Please browse your email inbox for any of these sender names.
If you cannot retrieve the delivery mail from your email inbox:
Visit the ShareIt customers login
Adjust the web page language in the upper left, if necessary.
Click the button "My Account" and log into your ShareIt.
You can retrieve your purchase information.
If you lost the Login information, click the "Request Login/Password" link near the user/password input boxes.
Is the online shop safe?
Yes, buying from the online store is safe.
Our online shop is operated by one of the world's largest online shop operators, Digital River, which operates shops for Samsung, Microsoft, Lenovo and many more.
The key symbol in the address bar of your browser during the purchase procedure makes sure that your personal data will be securely encrypted during tramsmission: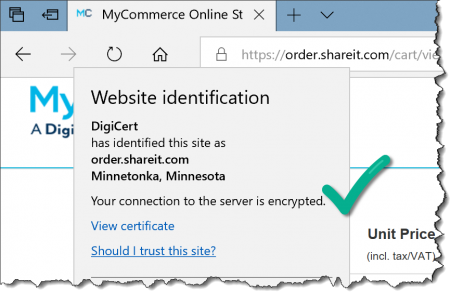 Are licenses valid life-time?
Yes, licenses are valid life-time for all software versions which are released during your maintenance term.
Make sure to keep a local backup of your software installation file as we do not maintain a repository of older software versions. 
Only maintenance (free updates, upgrades and new versions) expire after the end of the selected maintenance term of either one, three or five years, but you can continue to use your existing installation without expiration.
What is included in the purchase?
Your purchase includes the right to use the software, as well as updates and upgrades, which we publish within the maintenance period you have chosen.
A special feature of our offer is that it also includes all new major versions with new functions.
Is maintenance included in the license?
Yes, a license always includes maintenance for the selected term of one, three or five years.
This ensures that you can always use the latest software. You cannot purchase a license without maintenance.
However, if maintenance is expired for your license, you can renew maintenance at discount.