Please select the desired product:
First Aid
Can I have a discount?
Discounts are granted for volume purchases (see volume discount schedules linked in the shop section). The discount coupon feature in the shopping cart is used for returning customers and for custom orders though.
However, we kindly ask for your understanding that we are not able to grant discounts for individuals on request. We consider that being unfair to offer varying prices for all the customers paying the regular price. We rather try to meet different budgets by offering different product versions with different feature sets.
Additionally, we offer freeware versions for a selection of our products.
Thank you for your understanding.
Where can I retrieve my lost license key?
Our online shop is handled by the 3rd party eCommerce provider "MyCommerce/DigitalRiver" (formerly "ShareIt") who receives payment and sends the license key(s) for your online purchases. This company is your contract partner (we, Bartels Media, are the manufacturer but not the vendor).
You have received your license with the delivery email coming from "ShareIt/MyCommerce/DigitalRiver". Please browse your email inbox for any of these sender names.
If you cannot retrieve the delivery mail from your email inbox:
Visit the MyCommerce Shopper Support webpage.
Log into your account. If you don't know your login credentials you can request them on that page (We do not have them as we are not the vendor).
Retrieve your purchase information.
Is the license a subscription?
No, the software is no subscription but a single purchase with a one-time payment. There is not recurring payment.
Are licenses valid life-time?
Yes, licenses are valid life-time for all software versions which are released during your maintenance term.
Make sure to keep a local backup of your software installation file as we do not maintain a repository of older software versions.
Only maintenance (free updates, upgrades and new versions) expire after the end of the selected maintenance term, but you can continue to use your existing installation without expiration.
Does the software require an internet connection?
In regular use, our software does not need an internet connection.
An internet connection is used in following cases only:
The license key registration requires an internet connection for just a few seconds. This is a one-time procedure. We offer an offline licensing option for large volume installations.
Optional: Our software can occasionally check for updates and download updated versions.
Optional: Our software PhraseExpress can use the external language translation service DeepL which requires an internet connection.
If you don't make use of any such feature, you can safely block our software in your firewall.
Under no circumstance does our software send any confidential and/or sensitive information to us or anywhere else. Our company resides in Germany, in a country with one of the strictest data privacy laws in the world.
Do you entertain a refund policy?
A money-back guarantee means, that you first have to pay, then you may find out, that the product does not meet your expectations and you would have to claim your money back.
We don't want your money first - We want your confidence first!
You can extensively try out our software free-of-charge before you need to make a purchase decision.
Our demo software which is available in the download allows you to test everything. We don't urge you to buy! Please test the software for suitability and compatibility with your individual system environment.
What happens after the end of maintenance?
Your software installation will continue to work. However, your license key no longer works for security-critical security updates and we recommend to renew the maintenance. Returning customers get discount.
Is the online shop safe?
Yes, buying from the online store is safe.
Our online shop is operated by one of the world's largest online shop operators, Digital River, which operates shops for Samsung, Microsoft, Lenovo and many more.
The key symbol in the address bar of your browser during the purchase procedure makes sure that your personal data will be securely encrypted during tramsmission: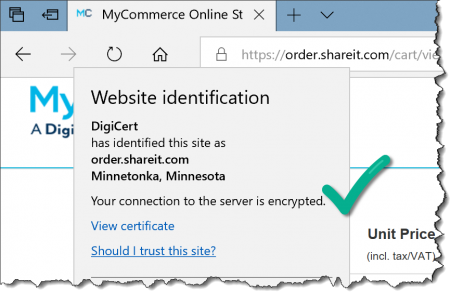 What is included in the purchase?
Your purchase includes the right to use the software, as well as updates and upgrades, which we publish within the maintenance period you have chosen.
A special feature of our offer is that it also includes all new major versions with new functions.
Is maintenance included in the license?
Yes, a license always includes maintenance for the selected maintenance term.
This ensures that you can always use the latest software. You cannot purchase a license without maintenance.
However, if maintenance is expired for your license, you can renew maintenance at discount.
When does the maintenance term start?
The maintenance term starts with the month of license key delivery.
License keys are dynamically generated at the time of purchase. The end of maintenance is branded into the license key and can be read that out from the first set of 4-digits, e.g. "0421" means April, 2021.
Can a license be transferred?
Yes, you can release a license association from a user, a computer or a USB stick at any time to use it on another device (or for another user).
Which currencies do you accept?
The base currency is US$.
If you are ordering from outside the USA, you may want to stick with the base currency. The exchange rate of your payment provider is most probably better than the rate of our eCommerce service. We have no influence over the rate eCommerce using for exchanges.
Can licenses be cotermed?
Yes, we would be happy to coterm the maintenance term of your existing licenses with a new purchase.
You would purchasing new licenses together with a maintenance renewal of your existing licenses. Remaining maintenance of existing licenses are credited.
You will then receive a complete set of new license keys that have the same maintenance term.
You can also upgrade to a higher product edition at the same time.
What to do:
Please send us the list of your existing license keys, as well as the number and desired product variation (Standard, Pro, Enterprise Edition, NamedUser/ConcurrentUser) and the desired new maintenance period of 1, 3 or 5 years.
Requirements:
Purchase of at least 10 new PhraseExpress Pro/Enterprise Edition licenses.
The edition of the new licenses must be at least the same as the edition of the existing licenses.
Existing licenses of varying product editions will be streamlined to a common product edition.
The maintenance period must exceed the maintenance period of the existing licenses.
Orders can only be placed directly, not in the online shop.
License reminders after purchase
Make sure to actually register your purchased license key in the software. The act of purchasing alone does not license the software. You need to register the license key you received in the delivery email in the software. See the product documentation how to register the license key.
The "About" window informs if maintenance of your license key is expired. If you get license notifications because you are using a software version that has been released after maintenance expiration, you would need to renew maintenance for your license.
Our software is available in different product variations (Standard, Pro, Enterprise) with different sets of features as advertised in the comparison table of the respective shop webpage.
A special feature of our software is that you can try features of all editions, even if you purchased and registered a smaller edition that does not include such feature of any higher edition. However, in such case you will get occasional license reminders which list the features that triggered the license reminder. Those are not included in your license.
This approach allows you to consider upgrading to higher product variation even after your initital purchase decision.
Options:
If you already purchased the higher edition, make sure to actually deregister the license key of a smaller edition and register the license key of the higher edition.
Consider to upgrade to a higher edition.
Discontinue using features that are not included in your license.